EARTH
GUILD
33 Haywood Street
Asheville NC 28801
1-800-327-8448
828-255-7818
fax: 828-255-8593
for email:
contact@earthguild.com
---
PRODUCTS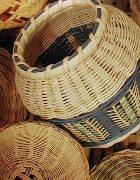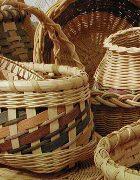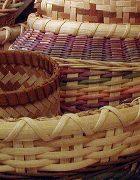 BASKETRY: Introduction
We have a wide range of instructions, materials and tools for basketry.
Choose one of the links below for details.
Earth Guild Basketry Patterns Available only from us!
These include a complete materials list and step-by-step instructions. All baskets are BJ Crawford's original designs; photography and printing are done at Earth Guild.
Paper Strips for Basket Weaving Back in stock, July 2023
Packages of hand-painted strips of 140 LB cotton rag paper, with Cat-Head Basket Instructions.
Paper Strips for Weaving Stars Back in stock, July 2023
Packages of hand-painted strips of 140 LB cotton rag paper, with Scandinavian Star Instructions.
Books
Everything from simple patterns with black-and-white diagrams to stunning color gallery portfolios. Traditional and contemporary baskets, general and specific instructions.
Basket Kits from Commonwealth Mfg.
All the materials and complete easy-to-understand instructions.
Hardwood Hoops
Round and oval hoops.
Hardwood "D"s & Side Handles
Key, Market, Herb, Jelly, Wine, Colonial, Step, Sharp-Top, and Williamsburg "D"s. Ash and oak side handles.
Swing & "U" Handles
Swing handles with separate "legs", and hamper swings (legs connect at the bottom. Light-weight bent-wood "U" handles, and heavier carved ones, square and round.
Frames, Feet & Bases
Kitchen caddy frames. Two sizes of basket feet. Traditional Nantucket bases with a channel around the rim, and plywood bases with a ring of holes around the edge (great for kids).
Reed in coils
Flat, flat-oval, round and half-round reed in approximately one pound coils.
Dyed Reed
Strand Cane
Binder cane in coils, weaving cane in coils and in boxes. Tools for seat-weaving.
Pre-Woven Cane & Spline Reed
Sheet cane in two widths, and the spline to wedge it into place. Tools
Shaker Tape
Tightly woven, very strong, heavy cotton tape in two widths and many colors. Traditionally used for weaving seats, also good for straps and handles.
Seating & Coiling
Other materials, most often used for wrapped seating and coiled baskets. Seagrass, PerFlex, natural rush, Fiber Rush, raffia and jute.
Weaver's Stains
Danish Oil Finish for reed, cane & wood baskets in six shades.
Tools: First Page
Thread, awls, gauge, other small tools.
Tools: Second Page
Cutters, clamps, ties, reed gauge, spoke weight...
Tools: WeavRite
Hand-crafted basket-weaving tools, with cherry wood handles.
(Any of the headings will take you to complete listings with prices.)