EARTH
GUILD
33 Haywood Street
Asheville NC 28801
1-800-327-8448
828-255-7818
fax: 828-255-8593
---
---
SPINNING: Hand-made Wool Combs
These are beautifully made and very sturdy.
Petite Wool Combs, 3 in Maple 2-Row, measuring about 5 inches, come in pairs. The tines are slightly curved at the ends, and there are either one or two rows of them. They are used hand-held. These we currently stock.
English Combs, also in pairs, are yet larger (about 8 inches). The tines are straight. One of the pair must be set into the included stand, the other is hand-held.
The Blending Hackle, measuring 1½ by 14 inches, is a single piece.
Viking Combs can be ordered; ask.
They are larger (about 7 inches), also in pairs with tines curved near the tips, one or two rows. They can be used hand-held, or with ones set into a stand, sold separately.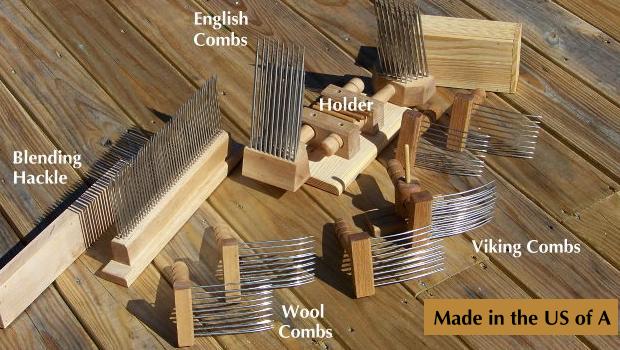 Add items to your shopping cart by entering quantities in the column of boxes (right-most but one) and clicking the Add To Cart button at the bottom of the page. The cart does not calculate our discounts. We will e-mail you a detailed confirmation copy of your order with all discounts applied.