EARTH
GUILD
33 Haywood Street
Asheville NC 28801
1-800-327-8448
828-255-7818
fax: 828-255-8593
---
Block Printing Ink for Fabric from SpeedBall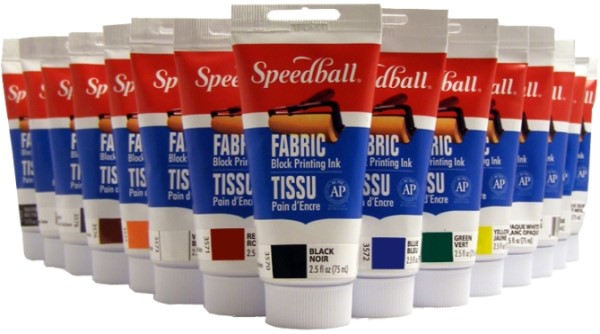 Speedball's Fabric Block Printing Inks print on a range of fabrics with bold, opaque color, they dry to the touch overnight, and remain permanent through the wash--with NO HEAT SETTING REQUIRED. Excellent on cotton, polyester blends, linen, rayon, other synthetic fibers. Rready for the wash 4-7 days after ink is dry and will remain permanent through the wash. Ink will not crack or peel over time. Cleans up easily with soap and water.

Use a soft brayer to apply to the block, see block-printing tools.
Add items to your shopping cart by entering quantities in the column of boxes (right-most but one) and clicking the Add To Cart button at the bottom of the page. The cart does not calculate our discounts. We will e-mail you a detailed confirmation copy of your order with all discounts applied.