EARTH
GUILD
33 Haywood Street
Asheville NC 28801
1-800-327-8448
828-255-7818
fax: 828-255-8593
---
PRODUCTS
---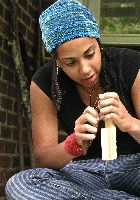 WOODWORKING: Sharpening
One secret of successful woodcarving is sharp tools. Dull edges slow and coarsen the carving, will frustrate and may injure the carver. A good rule is: 1 minute sharpening time to 5 minutes carving time.
BOOK
Sharpening & Knife Making by Jim Watson
(pbH002, paperback, 176 pages)
Chisels, gouges, and knives (carving and kitchen). How to sharpen and maintain; and how to make your own. Almost entirely hands-on photographs, with text accompanying.

BLOCK MOUNTED ARKANSAS STONE Natural medium grade Arkansas stone, 6" long by 1-5/8" wide by 3/8" thick. Attached to a block to make sharpening safer and easier.
BASIC SHARPENING KIT No. 2 The essentials: 5" Natural Medium Stone; 4" Natural Fine Stone; 2 ounces of Honing Oil; Sharpening Angle Guide; and Sharpening Instructions.
HONING OIL Four ounce squeeze bottle.
See other sharpening tools with basket tools.

Add items to your shopping cart by entering quantities in the column of boxes (right-most but one) and clicking the Add To Cart button at the bottom of the page. The cart does not calculate our discounts. We will e-mail you a detailed confirmation copy of your order with all discounts applied.