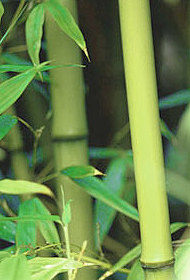 BAMBOO FIBER is made from the bamboo plant, a grass farmed commercially throughout Asia. Bamboo can grow very tall and a stand of bamboo plants can thrive for as much as100 years. Bamboo is an annually renewable resource.
This fiber is cool to the skin, comfortable to wear, and has beautiful drape and softness.It has the same moisture absorption as cotton but better moisture transmission, making it both more comfortable and more sanitary.
The manufacturing process uses new, cutting edge bioengineering technologies. First the bamboo fibers are softened into a "batter". Then the fiber is produced by wet-spinning and stabilized by acetylating, and is then cut into short staples after curling and thermoforming.