EARTH GUILD
33 Haywood Street
Asheville NC 28801
1-800-327-8448
828-255-7818
fax: 828-255-8593
inform@earthguild.com
---
PRODUCTS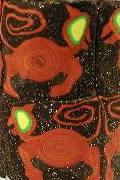 POLYMER CLAYS: Pattern Cutters & Tools
PATTERN CUTTERS
These work just like cookie cutters. Flatten clay into a sheet by rolling or patting and press cutter into it. The plunger helps to eject the shapes. Cut pieces can be trimmed, rolled, decorated or otherwise enhanced before hardening. These will also cut wax sheets, to make appliques for rolled candles. Each set has four or five cutters, instructions and a project sheet.
KLAY GUN® Works like a cookie press. Clay is loaded into the barrel and pressed out through any of 19 different discs.
NUBLADE® Cutter, one-sided (to protect fingers), 6" long, 3/4" wide, rigid.
NUFLEX® Like the "Nublade" above, but it flexes, so you can cut a curve.
WAFER MAKER Intended for scraping paint, excellent for cutting polymer canes into thin, even slices. Double razor edge, 3-1/8" long, 7/8" wide. Very sharp, not to be used by children.
NEEDLE TOOL A sharp point set into a wooden handle, for safely poking tiny holes and to measure depth.
LACE TOOL A needle tool at one end, a small curved blade at the other.
MINI RIBBON TOOLS Six tools, 5-1/2" long overall. Handy for trimming small pieces; cute in their own right.
METAL SCRAPER Flexible, 4" by 1-3/4". Useful for smoothing surfaces and for removing unwanted material neatly. Good for slicing clay canes without deforming them.
BRAYERS For rolling polymer clay (or any similarly pliable materials) into sheets and slabs. Especially useful for caneworking. Wood brayer should be moistened with water before using to prevent sticking.
Add items to your shopping cart by entering quantities in the column of boxes (right-most but one) and clicking the Add To Cart button at the bottom of the page. The cart does not calculate our discounts. We will e-mail you a detailed confirmation copy of your order with all discounts applied.