EARTH
GUILD
33 Haywood Street
Asheville NC 28801
1-800-327-8448
828-255-7818
fax: 828-255-8593
inform@earthguild.com
---
PRODUCTS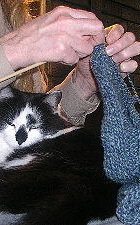 KNITTING & CROCHET
For a tremendous variety of yarns; wide ranges of fiber, texture, weight and color - return to "Products", then select "Yarns".
For supplies, follow one of the links below.
KNITTING NEEDLES
Addi Lace Needles
Addi Metal Circular Knitting Needles
Boye Aluminum Double-Point Sock Needles
Brittany Birchwood Double-Point Sock Needles
Clover-Takumi Bamboo Double and Single-Point Knitting Needles
Clover-Takumi Bamboo Circular Knitting Needles
Twin Birch Knitting Needles
Brittany Art Deco Straight Needles
Hiya Hiya Interchangeable Needles NEW Aug 2010
CROCHET HOOKS
Steel & Aluminum Crochet Hooks (Boye)
Wooden Crochet Hooks (Brittany)
Bamboo Crochet Hooks
Asian Knot Templates
Knitting Accessories and Tatting Shuttles
Ball & Skein Winders are on the Weaving: Winding page.
FREE EARTH GUILD KNITTING & CROCHET PATTERNS
(these are downloadable PDFs)