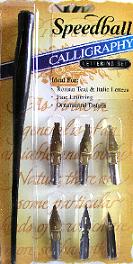 The Speedball® Calligraphy Pen Set comes with four"C" style nibs (for Roman texts, itallic lettering, accented line drawings, scrolls, scripts), two fine Artist pen nibs, and one holder.
The Speedball® Super Black India Ink has excellent reproduction quality on absorbent surface with optimal light-fastness. asily applied, fre-flowing, non-clogging, waterproof. Highly opaque carbon black pigment. Contains shellac, does not contain peanut oil.
The Speedball® Acrylic Inks and Pen Cleaner are acid-free, archival, waterproof, non-toxic.

PLEASE CLICK ON CODES TO SEE PICTURES.